ONLINE FRAUD PREVENTION
We have been informed that some of our customers have recently received
phishing emails
from
scammers
impersonating Faital S.p.A
.We take information security very seriously and ask that
you also be vigilant to prevent fraud
and to help protect our common interests.
Generally Phishing refers to fraudulent attempts to get personal information from you, usually by email, but scammers use any means they can to trick you into sharing information or giving them money.
In this specific case scammers are sending emails to our customers communicating a variation of our payment details or bank account number.
How can you avoid falling victim of phishing?
Please find below an example of the message you could receive and some hints to detect phishing emails.
Wording and approach may vary.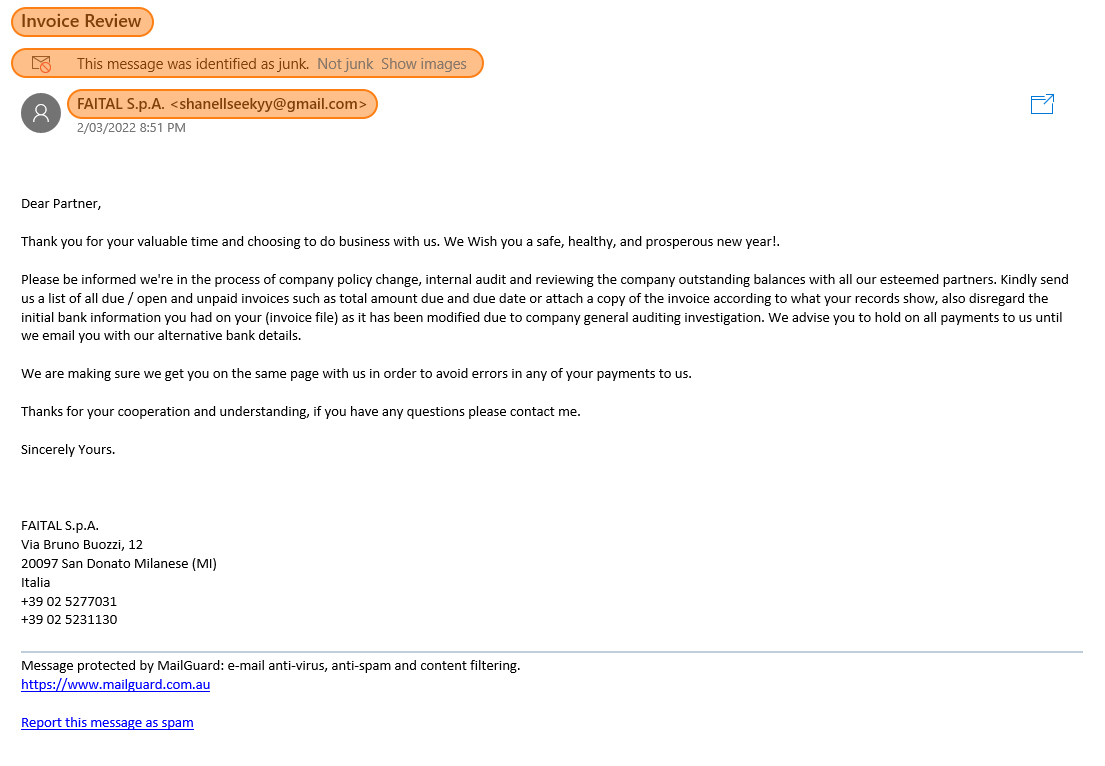 Always check the subject of the message
This is another important detail that must be considered. It could be helpful adding our domain name in the list of your trusted contacts to avoid that Faital messages to you are identified as "junk" by your server.


Make sure the message was NOT already marked as "junk" or "undesired message" by your email provider.
In most cases scammers are not aware of details like reference numbers of invoices or purchase orders (unless they gained access to YOUR email account in a hacking activity). These kinds of messages usually have a generic subject, this is the first sign which indicates you are reading a suspicious email.


Check very carefully sender's information.
As you can see in the example above, the sender name could lead you to think you're communicating directly with Faital S.p.A., but checking the email address it becomes very clear that you are not receiving a message from our organization. To be sure the message comes from Faital, check the domain name (the text after the @ sign). It must be @faital.com, @faitalpro.com (NO OTHER domains are used for FaitalPRO related communications). Check it very carefully and verify there are no misspelling (for example "@fiatal.com" instead of "@faital.com"). We never use generic email accounts like Gmail, Hotmail or similar.


Do not open attachments.
Often these messages come with an attachment. If the above conditions are indeed present in the communication received or if you have any doubts, do not open the attachment until you're sure and you have verified with us that the communication is indeed legitimate and from Faital S.p.A.


IMPORTANT
In the case you receive a message similar to the one shown in the picture and you recognize even only one of the conditions listed above, please call your FaitalPRO sales contact before responding or making any payments, so we can answer any questions and make any necessary verifications with you. Furthermore, once you have made the payment, please share a copy of the transaction with us to trace the payment. It would be best to confirm the email address you are sending the payment receipt to ahead of time.