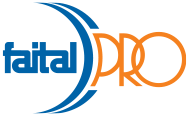 POSSIBLE Banking FRAUD Notice
We are witnessing an ever increasing number of fraud attempts and scams which involve our clients and contacts and we would like to share a little advice on safeguarding your transactions with Faital.

1. All payments must be sent to FAITAL S.p.A. - Via Bruno Buozzi, 12 - San Donato Milanese (MI) - 20097 – ITALY. It is important that the recipient is precisely spelled and indicated as we suggest.

2. Faital currently works exclusively with 2 bank accounts (citare IBAN) QUI BISOGNA CONTROLLARE, PERCHè SECONDO ME SONO DI PIù, ANCHE SOLO PERCHè ABBIAMO CONTI IN EUR E USD IN QUASI TUTTE LE BANCHE CON CUI LAVORIAMO...

3. Should you have any doubts please call us at our office number in Italy, which is ONLY +39.02.5277031, before making the payment so we can answer any questions and if necessary walk you through the process.

4. If you receive any notice regarding our banking coordinates, please call us to verify on the phone if it is a legitimate communication.

5. Once you have made the payment please share a copy of the transaction with us so as to trace the payment, it would be best to confirm the email address you are sending the payment receipt to, also in this case you can always call us at +39.02.5277031.
Better to be safe than sorry!

We are just one phone call away, it may be worth taking a few extra minutes and double check!
WE ARE SORRY...
Unfortunately this article is not yet available in your language.
You will be redirected to the page you came from in a few seconds.
We appreciate your patience.